Gifts of Hope – Alternative Christmas Market 2023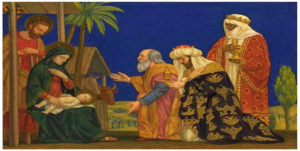 How Does This Work?

C.S. Lewis once asked "Can it really be my duty to buy and receive masses of junk every winter?" Some may find his question harsh, but we all lament that Christmas has morphed into an ungodly materialist celebration rather than one centered on Christ's birth. The sad reality is that the Good News of the angels is now good news about where to find the best bargains.


We want to take Christmas back from the commercialism through our Alternative Christmas Market. We propose to replace one of your gifts to a friend or family member with one of the options contained within. We will supply you with a card explaining the nature of your gift that you can give to the recipient thus allowing you give not one gift, but two. Herein is the beauty of the Alternative Christmas Market, your gift also helps to bring hope and love to someone in need here at home, in some other part of our nation, or even our world.

Below you will find 2 links to information on this year's Alternative Christmas Market.
Download the Gifts of Hope ACM 2023 brochure here. Please read through the information, and choose ministries you wish to support.
Download the Gifts of Hope ACM 2023 Order Form here, then print and review the form. Alternatively, you can call the church office at 336.227.2910 and request that we mail a form to you. Complete and return your form in person or by mail. Once your order form has been submitted, you can either pick up your cards or we will mail them to you, if requested. It should also be noted that your purchases are considered tax-deductible.
So, how about it? Are you tired of the message of Christmas being replaced with a lesson on materialism? Come join us then at the Alternative Christmas Market.
____________________

Our Vision
Our Alternative Christmas Market seeks to holistically address the two great commandments of loving God and loving our neighbor. We are guided by two passages of Scripture. The first is Acts 1:8 when Jesus commands the disciples to "be my witnesses to Jerusalem and in all Judea and Samaria, and to the ends of the earth." Jesus is quite clear in reminding us that our task is not sequentially focused that first we go here and then we go there. We are to be Jesus's witnesses everywhere across the globe through both our personal witness in our community and by providing resources to those who have been called to places beyond our community to be witnesses there. How can we even know where to start with such a vast assignment? Jesus tells us in Matthew 25.
"When the Son of Man comes in his glory, and all the angels with him, then he will sit on his glorious throne. Before him will be gathered all the nations, and he will separate people one from another as a shepherd separates the sheep from the goats. And he will place the sheep on his right, but the goats on the left. Then the King will say to those on his right, 'Come, you who are blessed by my Father, inherit the kingdom prepared for you from the foundation of the world. For I was hungry and you gave me food, I was thirsty and you gave me drink, I was a stranger and you welcomed me, I was naked and you clothed me, I was sick and you visited me, I was in prison and you came to me.' Then the righteous will answer him, saying, 'Lord, when did we see you hungry and feed you, or thirsty and give you drink? And when did we see you a stranger and welcome you, or naked and clothe you? And when did we see you sick or in prison and visit you?' And the King will answer them, 'Truly, I say to you, as you did it to one of the least of these my brothers, you did it to me.'"
Each of the groups we highlight in our Alternative Christmas Market seeks to minister in one of the areas Jesus addresses in Matthew 25 as a place where we can find Him. We very often do not think of Jesus in places of such sorrow and hopelessness, but where else would Jesus be? Jesus is the hope of the world, the Bread of Life, Living Water, the Prince of Peace, a man full of sorrows and acquainted with grief we confidently and rightfully confess. Why would Jesus not be with those who desperately need these and the infinite number of other attributes He possesses. We would be in error if we labeled these groups as simply "social ministries" or ones that engage in "needs based evangelism" for these groups are much more. These groups have the holy privilege to join Jesus where He is at work and as they minister with Him, Jesus is quite clear they are ministering to Him as well. Such is how we can love God and our neighbor at the same time.
____________________
A Note About Our Projects
Each of our projects has been evaluated to determine whether the sponsoring organizations align with the beliefs and values of Grove Park Baptist Church.
While we encourage everyone to participate in the Alternative Christmas Market by making a purchase, please know that you can help these causes in other ways. Our catalogue also serves as a prayer guide to enable you to pray for them and their work for the Kingdom throughout the year. Prayer support is just as vital to the success of these efforts as monetary support.
Thank you again for your support.